Today, CNC machining is being widely utilized in various areas. CNC Machining is a computer-controlled manufacturing process. It's also a necessary product of the precision processing of parts. With the advancement of times, the technology used in the automotive industry is continuously growing.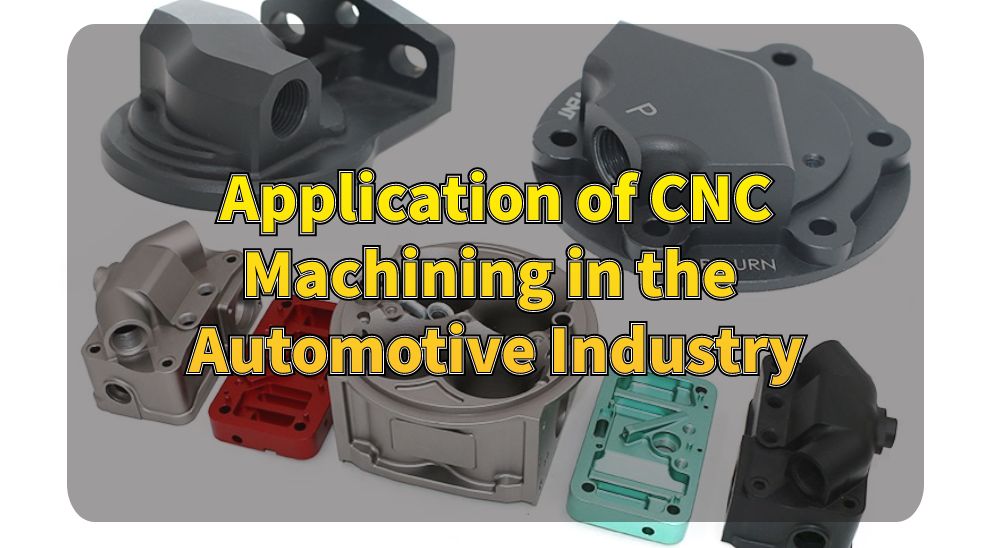 CNC machineries are among the most essential technologies that can transform the production of automotive CNC machined parts. What are the uses of CNC cutting in the automobile sector? How can it be used to CNC machine auto parts? This article will focus on the manufacturing and application of CNC machining of automotive pieces. We invite you to read our article to better understand the significance of CNC cutting for automotive manufacturing.
What is the reason why CNC Auto Parts need CNC Machining?
Precision CNC processing technology is able to process parts tiny screws into engine cylinders. It is stated that CNC machining can be used for a variety of purposes in the field of automotive.
The Advantages of CNC Machining in the China CNC Auto Parts Industry.
CNC machine itself is high-efficiency, high-precision and low-cost machining technique with many benefits in the automobile industry. This includes:
The term "high precision" refers to the simplest words

, CNC machining is a precise control of the process and manufacturing of auto parts. It utilizes computerized and automated process that greatly reduces errors that are inherent in hand-made parts. (Note that our tolerance could exceed +-0.01MM and the tolerance for fine holes could be +-0.02MM)

Enhance the speed of production of CNC manufacturing automotive parts

: The manual small batch manufactured parts are generally poor in efficiency, and also high in cost of personnel. However the automated CNC manufacturing reduces production time and costs for personnel as well as batch-processed components are also produced in a short time and the precision of every batch can be checked at a single time.

Production that is repeatable

: CNC machining can be manufactured multiple times based on the demand, which is a benefit in the prototype production of CNC manufacturing automotive parts. Furthermore, the accuracy of CNC cutting parts for automotive in various batches is also constant.

​

Controllable costs

: CNC machining can save costs associated with the project through the choice of materials, the efficiency of work , and the production of batches of components.
Application of CNC Machining in Parts Manufacturing of Automobile Industry
CNC machining of small components to large ones has its own applications. It is said that it holds an crucial position in the automobile industry.
Automotive parts like Engine block, Cylinder head rotating shaft transfer shaft, box, brake drum wheel hub the gear rocker arm rocker shaft oil cooling joint oil cake, etc.
Motorcycle parts like: housing for the oil pump and cover for oil pumps left and right crankcases the cylinder block, the cylinder head cover, oil plug cover the rocker shaft,, and other components.
What's the HTML0 materials and Surface treatments for CNC machining of automotive parts ?
Inside the structure CNC manufacturing auto parts is extremely complex. To ensure its durability as well as thermal and electrical conductivity as well as wear resistance weight reduction, and other specifications various parts must be processed with various materials. Are you unable to find the right materials to process? Are you still unable to find a reliable source of CNC parts for machining? JTC Machining Precision parts processing suppliers will provide you with 475 varieties of CNC machining parts for automotive materials for you to select from.
Be aware that the most commonly utilized materials to make CNC manufacturing of auto components are:
Aluminum alloy, zinc alloy, magnesium alloy, stainless steel, steel, etc.,
Additionally different surface treatments can be customized to suit different processes and materials:
Powder spraying, anodizing painting Electroplating, sandblasting laser carving, electrophoresis silk polishing, screen printing etc.
The Direction of CNC Machining in the Automotive Industry
With the increasing popularity in AI and artificial intelligence (AI), CNC machining machines are also creating new innovations. AI helps to reduce the time while processing. CNC is able to process high-quality precision components, and provide prompt feedback when errors happen.
CNC Machining is also assisted by AI to boost the output of CNC manufacturing automotive components. The advancement of technology that is intelligent allows for the final integration with CAD software and fix design mistakes. CNC machine tools that are intelligent and smart are a vital element of future processing of auto parts.
Prior to machining components in the automobile industry, it is important to take into consideration the following aspects:
CNC capabilities for machining: to make sure you have the resources and equipment necessary for CNC machined auto parts.

Minimum order quantity It's to verify that your order meets specifications.

Cost is a key element for every company when they begin a project. It will ensure that you have the correct costs and benefits.

The quality control process will help you understand the nature of the quality management system and whether it is in line with the standards of the QMS.

Timely delivery It is a concern that every company is concerned about when they purchase. This is why it is essential for CNC components suppliers to be able to deliver the items before the date of delivery.
For the past 11 years we've been offering metal CNC manufacturing services for machining parts in a range of branches (including auto industry). If you require processing or design CNC machining for automotive parts, do not hesitate to contact us. We will offer high-quality custom CNC machining services for automotive parts.
In the next stage of revolution in manufacturing, 3D printing and robotics, and other technologies will alter how factories manufacture and process their manufacturing. In addition, businesses will also rethink their products and production processes. Small-scale, highly personalized items will be made in the production line. These sophisticated products are similar to traditional handicrafts made of high-tech. While technology has made this innovative manufacturing process feasible, the main motivation to implement this model is derived from the clients.
In developing and emerging regions, consumers are increasingly hoping that their products will be tailored to the local culture instead of homogenous global brands or B2B offerings. Since the 1980s, the auto sector was able to lead locally-focused models. With the demand-based production model as well as the flexibility of machining and manufacturing firms will earn a lot of money. Since the flexibility of the supply chain continues to increase as local needs of customers are more apparent, the effectiveness of managing inventory has increased and the costs of transportation for large quantities of merchandise can be cut down.
The advantages of manufacturing and production on demand within the auto industry
Flexible design scheme
Dealers on the other the one hand, they have to deal with an increase in inventory pressure However, they are competing for top-selling models. For many multinational car companies the pace of changes within the Chinese market can be unexpected and the demand across different regions is different. This demands frequent adjustments to the production schedule or else it could lead to the squeezing of warehouses, and unsalvable models. Modularization of the manufacturing process implies that an assembly line can be split into a number of relatively independent units.
Each module is able to be set at a time, and it can be altered according to the type of product and the quantity of product being produced, making it less disruptive to other processes and the entire process. The result is that the production process can be performed more efficiently and smoothly. The factory will be equipped with an efficient database that will allow designers to examine the previous modifications, make improvements to the future parts, and track the progress of completed prototypes. On-demand manufacturing is extremely valuable to the automotive industry that is seeking quick transformation of.
No minimum order quantity
Whatever number of samples you require even if you just require one sample, our manufacturers that produce and process on demand will be able to meet your needs. As the speed of design improves and demands evolve, we offer a variety of options, like quick molds and vacuum casting. We can offer services like small batch production to select from.
Rapid turnaround
This year it was reported that earlier this year, the National Development and Reform Commission reported that in 2015 the utilization rate of passenger vehicles rate of the 37 largest auto firms (groups) reached 81%. The ratio of capacity utilization was acceptable. Commercial automobile capacity utilization was at 52% and the rate of utilization was 52 percent. Insufficiently, the issue of structural excess of capacity of production vehicles has emerged.
Even in the world of automobiles for passengers there have been constant disputes between manufacturers and dealers in recent years. the cause is nothing other than the pressure on inventory and the need to meet sales targets. The time it takes to deliver the product is long. Minimum order quantities that have been confirmed take a significant amount of time to customers who add unnecessary parts. Processing and production on demand is dependent on the requirements of the customer which significantly decreases the wait time for customers and also provides a quick turnaround times of 3-7 days which accelerates the release of products from customers.
JTC Machining offers CNC prototype for auto parts and a manufacturing parts for production on demand . Get instant quotations for CNC auto parts manufacturing, CNC machining services, CNC milling and turning services as well as 5-axis CNC machineries, etc. Many products and Finishing services ensure the top quality of the parts are used the first instance.