China CNC Auto Parts Factory Can Produce Aluminum Auto Parts?
The automobile industry is continuously growing. There are always new models of cars and parts for cars are constantly being updated. Aluminum car parts are an excellent option to make your vehicle stand out and make it more efficient as well.
Aluminum is among many of the richest elements on the planet however, it's also among the most difficult to deal with. What is the best way to use aluminum? What is the process for making alum auto parts? The manufacturers of aluminum car parts use special technology for these. We will explore this further.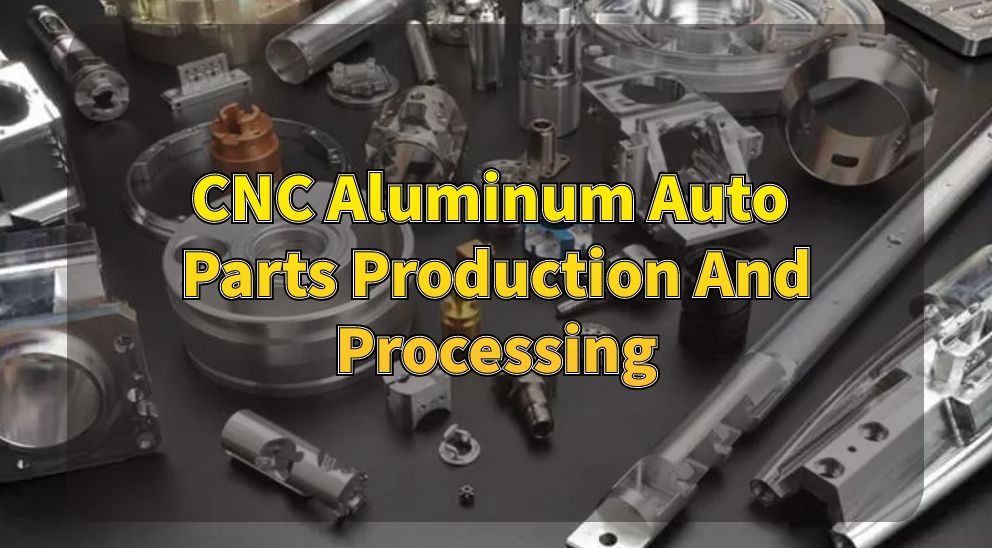 There are many methods to fabricate metal auto parts. Some are extremely expensive, while some are less expensive. Based the budget you have and your requirements you can select one or the other.
If, for instance, you have to manufacture huge quantities of aluminum car parts, you'll probably have to purchase CNC milling machines. It is possible to choose the laser cutting machine if you only require just a couple of pieces.
CNC machine used for Aluminum Car Parts
CNC Machining is an automated method of making metal parts with Computer Numerical Control (CNC) technology. CNC Machining lets us make complex forms and features for our metal components at extremely high speeds.
We are also able to cut materials such as aluminum using CNC aluminum cutting. CNC machining has many benefits over hand-crafted processes. We can first improve accuracy and reliability. In addition, we can cut down on the time to cycle and improve productivity.
It is a costly process to make Alum auto components. So, it is best to pick these parts that are of high quality and a lower per-part cost.
Aluminum Die Casting
Die casting is a manufacturing process that involves placing liquid metal in an opening in the mold at extremely high pressures. After cooling the mold is opened and the component is now ready to be removed. Die casting is employed in a variety of industries, such as aerospace, automotive consumer goods, medical devices electronic toys, electronics sporting equipment, etc. There are a variety of dies, based on the kind of product being produced.
Three-dimensional printing refers to an additive manufacturing process that produces 3D objects by layering material. It is typically used for printing plastic model however it is also employed to print metals, such as aluminum.
Metal 3D printing makes use of lasers to melt small quantities of powdered steel. Laser beams heat an object's surface until melting the particles together. When the molten metal cools, it becomes hard and an solid shape.
The product that is printed is generally more durable than other kinds of 3D printing due to the fact that the metal is bonded instead of being just bonding. This technique is typically used to create prototypes as well as external body components.
What is it that makes Aluminum Car Parts Different From other metal Auto Parts?
There are several reasons that aluminum car parts are distinct from other auto parts made of metal. Aluminum has unique characteristics which make it distinct in comparison to other types of metals. Aluminum improves the performance of your car and makes your car lighter that improves the efficiency of your fuel. Let's find out the unique characteristics of each car.
Strength
Aluminum is much more durable than steel since it doesn't break down like steel does. Steel can become brittle in low temperatures, whereas aluminum remains strong even when it is cold. This makes aluminum perfect for the construction of automobiles, aircrafts appliances, as well as tall buildings.
Flexibility
Aluminum is among the most durable materials known to mankind, and is able to withstand extreme pressures and temperatures. However, it's also extremely flexible, which makes it the perfect material for situations in which durability isn't a requirement. This makes aluminum ideal for everything from bicycle parts to aircraft frames.
The combination of flexibility and strength is the reason for its name -"aluminum. "aluminum."
Malleability
Aluminum is among the most malleable of metals. It can be extruded to nearly any shape you want by running aluminum through a die. This makes it ideal for making components like car body panels, airplane fuselages, as well as architectural components. Aluminum is also able to be formed into intricate shapes through the bending and shaping process.
Conductivity
Aluminum is a fantastic conductor of heat as well as electricity. The typical household wire is made up of approximately 18% of aluminum. To achieve similar electrical conductivity requires about 50 times more weight. This is due to the fact that aluminum is significantly heavier than copper. In reality, an aluminum conductor weighs half that of a copper one with the same electrical conductivity as per the
American Society for Testing Materials (ASTM).
Resistance to corrosion
Aluminum is a light and non-corrosive material. It's been used in aerospace and automotive industries for many years, offering the highest strength-to-weight ratio, as well as outstanding strength properties for fatigue. Aluminum has been a popular car component due to its extremely light, robust and durable. It's also affordable.
Metals of Common Aluminium Alloys found in Car Parts
The car is made up of about 30500 components, which includes the outer panels. Aluminum alloy is a great material for car production because of its resistance to rust and light weight. There are a variety of aluminum alloys utilized for creating cars. Some examples include:
Aluminum Alloy 1100 series

Aluminum Alloy 4032

Aluminum Alloy 3105 3003, 3003 and 3004 Series

Aluminum Alloy 2024 series

Aluminum Alloy 5005 5182, 5083, 552 and 5251

Aluminum Alloy 6022 6061, 6061, 6181 and 6016

Aluminum Alloy 7046 and 7003
Benefits of Aluminum Auto Parts Benefits of Aluminum Auto Parts
Aluminium auto components are an excellent option to save money on repair costs and to keep your car running smoothly. They're also green because they aren't susceptible to rusting like other metals could. We've listed all the advantages of aluminum auto parts.
Performance
The car industry is evolving quickly. The latest materials, like aluminum, are used to construct lighter, stronger cars. Aluminum is generally 10% and 40 percent more lightweight than steel. Its strength allows it to make smaller panels and less structural components. The flexibility of aluminum allows companies like Ford Motor Company to develop car designs that can fit in small spaces, like around the cockpit.
Accuracy and repeatability
Aluminum is a soft metal. It is possible to use a variety of techniques to work with aluminum in accordance with your requirements. Because aluminum is soft,, it allows for greater control over the precision of automobile components. Aluminum alloys are ideal for repeatability. It is much easier to design high-quality and consistent automotive parts using aluminum alloy.
Safety
Today, aluminum comprises approximately half of the body panels in each vehicle that is sold in America. Aluminum has numerous benefits over steel. For example, aluminum is able to take twice as much energy from impact than steel of similar strength. Furthermore it absorbs more energy from crashes than steel due to the fact that it expands in deformation.
Durability
Aluminum car parts are less susceptible to corrosion and have a more long time to live than steel components. This makes aluminum parts suitable for vehicles that operate in extreme environments, like military and off-roading. The long-lasting durability and longer duration of car parts made of aluminum makes cars a great investment.
Fuel efficiency
If we look at aluminum car parts versus steel car parts, then it is found that aluminum is 24% lighter than steel. Automotive manufacturers are currently investigating ways to make more efficient use of aluminum including making it part of parts of the bodies on automobiles as well as making the components thinner and making new materials that will enhance fuel efficiency.
It is lightweight and resistant to abrasion.
It is commonly thought of as being brittle and weak, however, it actually is more durable than steel. It is due to the fact that the aluminum atoms are organized in the hexagonal crystal structure instead of a solid one. Due to this, it's much more robust than steel, and also lighter. Actually, 70% of all cars today use aluminum mostly due to its strength and light weight.
Flawless Functionality
The industry of aluminum has made strides towards increasing the standard of their products in the last several decades. Recent advancements in materials and technology allow manufacturers to create connections which are stronger as well as lighter and simpler to build. This has led to better performance and durability for the products. Because of the technological advancements made in the field of aluminum connecting, the variety of applications for connecting with aluminum has increased significantly.
Uses to Aluminum Car Parts
There are numerous possibilities for aluminum automobile components. We've collected a few of them here:
Aluminum wheels

Mirrors

Valve covers are made from aluminum

Engine blocks

Auto parts aftermarket

Housings for transmissions made of aluminum

Wheel Spacer Parts

Ornaments and logos

Aluminum brackets

Carburetors Housings

Parts for impellers and fan clutches

Air filter adaptors for filters

Aluminum handles

Housings for the alternator
The Current of Aluminum in Cars
The industry of aluminum is always expanding and changing. One trend currently in progress is the use for aluminum within electric automobiles. Electric vehicles are becoming more popular and as the technology for battery batteries continues to advance the technology will only continue to become more popular. Aluminum is an excellent option for vehicles powered by electric power.
Another trend that is expected to last includes the usage of aluminum for hybrids. Hybrid vehicles are becoming increasingly sought-after by people looking for ways to reduce their fuel consumption and lower emissions. Aluminum is also an excellent choice for the construction of hybrid cars.
What do we think the future have in store for aluminum used in cars? It is expected that we'll be seeing more and more of aluminum used in hybrid and electric automobiles, as well as in components that are critical to safety. This is a good thing for car parts made of aluminum.
Conclusion
As you've seen the aluminum parts of cars are long-lasting and durable. The greatest benefit is that they can provide your car with a contemporary appearance.
If you're searching for manufacturers of aluminum parts for cars,JTC Machining is always your top option. We provide a range options of options for CNC Machining that include 3, 4 and 5-axis machine. We also offer a wide selection of available materials like steel, aluminum as well as titanium, plastics and many more.
Our highly skilled engineers and modern techniques of equipment enable us to meet the demands of precise and top-quality auto parts requirements. From test prototypes for individual parts to production-sized parts We are here to help you. Get a no-cost quote today!
What automotive components are made from aluminum?
There are numerous automotive parts made of aluminum. This includes engines block, the cylinder head intake manifold, exhaust manifold and transmission cases. Utilizing aluminum in these components helps to decrease the car's weight which increases fuel efficiency.
Is it costly to buy aluminum parts for cars?
Car parts made of aluminum are not large because they are constructed of recycled materials. The cost of aluminum car parts is contingent on the amount of scrap metal that is available. If there's a large amount of scrap metal available, the cost of aluminum car parts will be less.
What type of aluminum is used to make car body parts?
The strength of the aluminum used in car body panels varies according to the manufacturer of the vehicle. The majority of manufacturers employ high-strength aluminum alloy 6061 T6 to make the front offenders, the hoods and trunk lids, doors, roof rails and other parts that require more strength. Other types include 7075, 7074, 2024, and.