In the year 2019, the total worth of the manufacturing sector was 26.9 trillion yuan. This accounts for 28.1 percent of the world's total. It has maintained its position as the world's leading manufacturing nation for 10 consecutive years. Over the last 5 years, the performance of China's manufacturing supply systems has been improving. On one hand traditional industries have seen a rapid increase in their transformation and upgrade. However the growth of new industries that are strategic is increasing. The value added by the high-tech manufacturing industry in my country and equipment manufacturing industry was responsible for 14.4 percent and 32.5 percent of the total industrial added value , respectively which is the major factor driving the growth of the manufacturing sector.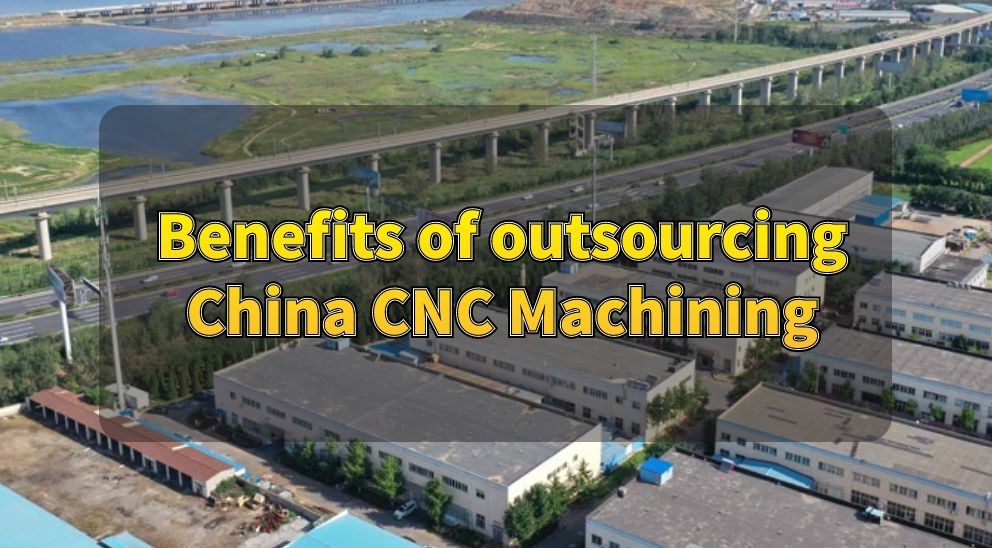 As a world leader for manufacturing China can be seen as a major player in the area of CNC cutting and machining. Today, there are many CNC manufacturing and rapid prototyping workshops as well as services available in China that are not just serving the local market for manufacturing and the global market. Many of the major cooperating companies in the medical, automotive aerospace, oil and gas, aerospace industries, and their essential parts are made in China. The evidence has proven that outsourcing the manufacturing process to China is efficient and will provide the same level of production as the more costly and domestic producers. There are many aspects to consider in selecting the best Chinese CNC manufacturing company. This article will provide all the facts on why you should outsource CNC machine work to China.
The first thing we must know the reason why businesses might want to think about using external CNC processing and rapid prototyping. One of the major reasons companies choose to use outside manufacturers is the expense of machine. The price of modern CNC machines as well as post-processing systems, among other industrial equipment is usually excessively expensive for medium and small-sized enterprises. Utilizing external CNC machine-tooling services, businesses can benefit from industrial processing technologies without investing large sums of money into expensive hardware.
Apart from avoiding expensive cost of equipment, companies who work with CNC manufacturing companies also reduce expenses for training and labour. Because complete CNC machine machining is a complex process, it needs specifically trained workers to operate the machine. So, the workers of firms that employ this technology to manufacture internally need extremely skilled workers educated by CNC. Through outsourcing CNC manufacturing services to specialist firms, companies can profit from the technology without the costs of training and labor related to the process. (How do you choose the right CNC Machining service?)
Why should you outsource CNC Machined Parts Manufacturing to China CNC Machining Factory
Comparatively to Western companies offering CNC production services Chinese firms offer cheaper prices because of a variety of factors, such as lower costs for labor, lower cost of raw materials and lower margins for profit.
Additionally, the numerous aspects that were traditionally thought to be the negatives to outsourcing China are becoming irrelevant. Thanks to the Internet the improved communication system allows companies can track their CNC-machined products as quickly as the close to home. Furthermore the combination of speedy processing and delivery options ensures that regardless of distance the speed of production is extremely quick.
Even for prototypes and small-batch production China, China is an inexpensive production site that means companies with their headquarters in Europe or in the United States and elsewhere can lower their manufacturing costs by outsourcing their manufacturing to China (without cutting production).
Another issue with outsourcing to China could be the problem of communicating in Chinese However, with the advancement of software for intelligent translation, and also for exports to China the majority of them employ professional foreign language salespeople and communications can attain the barrier-free level.
Additionally, China has taken major steps to enhance the laws governing intellectual property. Customers can now send their designs over to CNC manufacturing services in China to be used in production without fearing theft or misappropriation that the design may be used for.
The most important thing is the high quality of its production products and services China has become the leading market in CNC manufacturing and rapid prototyping market. Although China's labor costs are low however, the level of skill in manufacturing and use of CNC machines is at an extremely high quality. So that lower costs for production do not mean that the quality of the products are poor.
In recent times, the integration of China's industrialization as well as informatization has increased. Intelligent manufacturing has been intensified and at first, the completion of smart workshops and digital factories. Industrial Internet has seen a gradual progression and significant outcomes. The three main systems of platform, network and security continue to improve, and integrated applications are used to cover more than 30 important sectors of the economy. Network collaboration, intelligent manufacturing customized customization, service expansion and digital management as well as various other business models and models are growing quickly. It is clear that the digital market is growing and mobile payments ranked top of the line globally. Cloud computing, big data, Internet of Things, and artificial intelligence are all utilized in various areas of social and economic growth, leading to numerous innovative business models and models.
Yet, despite the many advantages of working with an CNC manufacturing company in China There are several factors that could help clients choose the right quick prototyping CNC machine manufacturing factory.
How to Choose the Right China CNC Machining?
processing to outsource the production of CNC parts and components, here are the most crucial aspects that you must consider when trying to choose a CNC partner for machining in China.
Certification
A very crucial aspects to consider when selecting the right manufacturing partner is to examine their certifications to ensure they're in compliance with the type of CNC-machined products you will be producing. For instance, if you are planning to purchase components or components for medical equipment The CNC machine shop must have the proper certifications and strict quality control procedures that are required by the medical industry.
Communication
As we mentioned earlier in the past, one of the main issues faced by Western firms who work in partnership with Chinese rapid prototyping companies has been communication. While technology like the Internet is making it much easier for customers from abroad to communicate closely with Chinese manufacturing companies, it is vital to create an excellent rapport with the company prior to creating a partnership with manufacturing partners.
Be sure to maintain an open dialog with your collaborators to ensure that you have a full understanding of the task that is in front of you. Your partners must complete the their projects in a transparent manner and their professionals will help you optimize and enhance CNC products to the greatest extent feasible.
Quality Control
It is crucial to establish the quality control procedure and the equipment offered by CNC machine machining services. These procedures comprise quality inspections during the manufacturing process as well as inspection of the final product raw material inspection, and final quality control. Thus an CNC service provider that offers an array of modern quality control procedures will guarantee that your product or prototype is in compliance with the highest standards of the field.
Production capacity
If you are looking to collaborate with an Chinese CNC machine shop be sure that the company has the right equipment and capacity for production to meet your demands. This includes milling machines, lathes multi-axis machining systems and more. Apart from manufacturing hardware, ensure that the business is familiar with and makes use of the kind of material you require whether it's metal, plastic or other types of materials.
Test them with Prototypes or samples
To make sure that prospective Chinese CNC companies are able to meet your strict requirements for quality for certain products, parts, or components We suggest that you first buy an exact replica of the item. The prototype isn't too costly. It will allow you to determine if an particular CNC machine manufacturer can make and deliver the necessary products that are in line with the specified specifications in the timeframe.
Conclusions on China CNC Machining
As the global economic power changes, many businesses realize that outsourcing important CNC products and components is far less costly than the actual production of them in factories all over the globe. Do not hesitate to contact an experienced CNC manufacturing service in China and include an additional label to the various parts of the finished product that reads Made by China.
Since 2020, facing the massive impact of the COVID-19 virus and the complicated and severe adverse conditions both in the world and at home, China has taken the first step in securing supplies to aid in controlling and preventing the spread of the disease as well as resuming production, supplying an incredibly strong hand to stabilize basic economic foundations. Made-in-China products not only satiated domestic demand but have also contributed to combat the global battle against the spread of the disease as well as economic recovery.
The first 3 quarters of the year 2020, the rate of growth of the value added by the nation's industrial enterprises over specified size was 1.2 percent, 5.8% in the third quarter and 6.9 percent in September. The economy of the industrial sector in general was able to show an gradual acceleration in growth in production and constant improvement in production and sales. , The confidence of market companies has significantly increased.
As a machining facility that offers CNC services in machining for quick prototyping and production of parts for over 10 years. We are specialized in CNC precise machining, including milling, EDM, and Grinding processes, as well as can offer Jig&Fixture and part assembly services. A wide range of materials and rigorous quality control to meet your needs.
JTC Model Technologies Co., Ltd Industrial Group,since established in 2008,has been committed to providing one-stop service to domestic and foreign clients.JTC is a technical innovation enterprise,and has developed into a enterprise with R & D,rapid prototype,mold making,injection molding,sheet metal and metal components making after years of expansion and technological innovation.The total area of our plant is 7,000 square meter,of which Rapid Prototyping Department area is 3,000 square meter,Mold and injection molding department area is 2,000 square meter,Sheet metal department area is 1,000 square meter,Metal components department area is 1,000 square meter.
JTC Industrial Group has 40 sets CNC Machine,5 sets 3D printing/SLA machine,several sets vacuum casting machine,Painting and silk-screen equipment.Also has 5 sets mold making equipment,10 sets injection molding machine,several sets Sheet metal cutting and bending,Stamping equipment.
JTC has nearly 400 industry elite and production staffs,we operate 24/7 to serve our clients. >>>Get a instant cad quote now!<<<