CNC Turning And CNC Turning Services Center
CNC turning centers and lathes may seem identical, but they generally refer to slightly different machines. Lathes generally only turn while turning centers can be more advanced. These machines can be capable of facing, threading, knurling, drilling, boring, reaming, and taper turning. Horizontal CNC turning machines are more common, but vertical machines utilize gravity. Between CNC turning, CNC turning centers, the different types of CNC machines, and more, it can be quite confusing. Within this article, we will focus on the basics of CNC turning to give you a strong foundation and answer the most commonly asked questions.
What is CNC Turning?
CNC turning is a subtractive manufacturing process in which pieces of material are rotated as a machine tool is fed to the piece, removing material to create a finished piece. It is primarily used to manufacture parts that are cylindrical in nature.
What Material can be Machined for turning machining service?
JTC CNC turning processing raw materials are divided into: plastic and metal. Plastics include PP, PA, PE, PC, ABS, Nylon, etc. Metals are aluminum, steel, iron, zinc, copper, alloys, etc.
What are the surface treatment processes of cnc turning?
Most of the surface treatment processes of CNC machining parts are common. JTC's services are divided into: CNC Turning, CNC Milling, Rapid Prototype, Sheet Metal Fabrication, Injection Molding, Die Casting. Our common surface treatment processes are deburring and sandblasting, electroplating, anodized, polishing, etc. Different surface treatment processes will bring different effects, such as: wear resistance, corrosion resistance, high temperature resistance, pressure resistance, etc.
Case Study-Get Your Own Turning Parts Quote
What is a CNC Lathe?
CNC lathe machines, or CNC turning machines are machine tools that rotate a bar of material, allowing the cutting tool to remove material from the bar until the desired product is remaining.
The material itself is secured to, and rotated by, the main spindle, while the cutting tool can be moved along multiple axis. The types of parts created by a CNC lathe are often cylindrical, or symmetrical around an axis.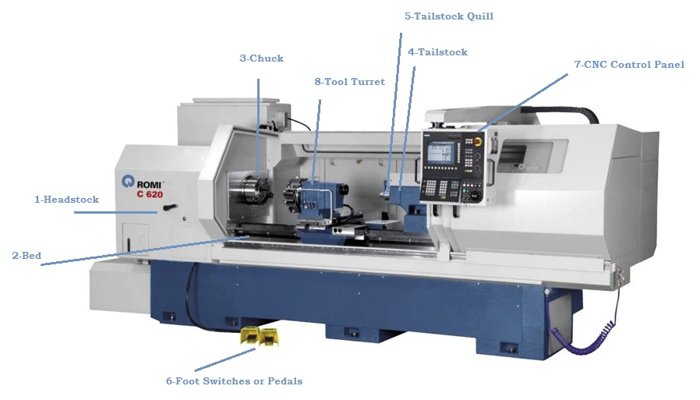 What are the Benefits of CNC Turning?
CNC machining is far better than manual machining for a few specific reasons:
Accuracy: Programming a CNC to complete a job creates a consistent and accurate cut to ensure product quality. It can be repeated over and over in the exact same manner.

Cost Effectiveness: The cost of hiring a person to manually machine parts at scale is far more expensive than having a machine do it, as a machine will not tire, does not need lunch breaks, and can, theoretically run 24/7.

Speed: CNC turning can churn out hundreds and hundreds of parts while retaining a consistent end product.
What is the Difference Between CNC Turning and Milling?
While CNC turning rotates the part for cutting, CNC milling rotates the tool to cut the part.
Going further, CNC turning will typically be used for cylindrical parts, as you rely on the part itself to rotate and create the friction to remove material when the cutting tool is placed against it.
On the other hand, CNC milling can create more complex parts as it is the cutting tool (rather than the material) that is spinning.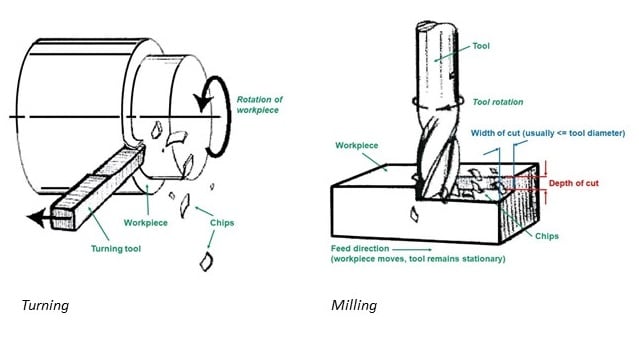 What is the CNC Turning Process?
The CNC turning process involves material being secured to a spindle within a CNC machine, and a cutting tool moving in linear fashion to act upon the material and remove undesired material until he finished component is all that is left.
MachineMetrics CNC Machine Monitoring
Use our plug-and-play solution to get your machines connected in a matter of minutes. Get instant access to machine monitoring and track real-time OEE, quickly identify production bottlenecks, and measure the effects of process improvements.