Are You Looking For The Best and Most Reliable Small Batch CNC Machining Company in Germany? If so, read on for a list of 5 CNC machining companies in Germany that offer small batch CNC machining services.
For a quick note, we have listed 5 CNC machining companies in Germany;
1.Gebr.unglaub
2.CNC-Oettinghaus
3.PFEIFFER Metalltechnologie GmbH
4.Baier Drehteile
5.MPINGER GMBH
1.Gebr.unglaub

Business type: Small batch CNC processing
Headquarters: Germany
Major Markets: Europe
Years of experience: 85
Company Profile:
Since 1937 we have been focusing on the production of technically extruded parts using the cold extrusion process and have established ourselves in the industry and made a name for ourselves. Our guiding principles are derived from these decades of activity and comprehensive expertise:
In us, our customers find a trusted partner who fulfills their wishes with the utmost flexibility. The quality of our work ensures the long-term success of our company. To our clients, we see ourselves as competent and committed consultants who use our knowledge to increase the long-term success of our clients' businesses.
Our quality policy is oriented towards our customers and requires all our employees to act independently and in a quality conscious manner. Our ultimate goal is to meet the needs of our customers. With the help of comprehensive improvement management, we constantly optimize our work results. Qualified and motivated staff and the use of modern technology ensure our success. Our quality management system is the guide for our daily work. The first task for the management of the company to maintain and further develop our quality management system is to provide the necessary resources and regularly check the effectiveness of the quality management system.
Our quality goals are customer satisfaction, economic success and employee satisfaction. We measure these goals through quantifiable metrics, such as customer ratings, critical data on complaints, employee surveys, and similar metrics.
Main Services:
Small batch CNC machining
Sheet metal
3 d printing
Rapid prototyping
2.CNC-Oettinghaus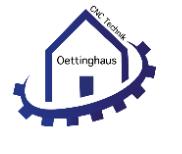 Business type: CNC machining, 3D
Headquarters: Germany
Main Markets: Europe and America
Years of experience: 9
Company Profile:
We offer you a full range of services from advice to planning and production.
We advise on technical issues, plan processes, optimize your processes and help with quality management. We always maintain transparency with our customers to ensure the highest possible customer satisfaction.
Main Services:
Small batch CNC machining
CNC machining
CNC milling
The numerical control turning
CNC grinding
3.PFEIFFER Metalltechnologie GmbH

Business type: Small batch CNC processing
Headquarters: Germany
Major Markets: Europe
Years of experience: 85
Company Profile:
Innovation is the core of technology leadership. Accordingly, PFEIFFER Metalltechnologie GmbH makes every effort to ensure that:
Constantly develop staff expertise and keep machines up to date
Technology. In addition to aluminum processing, steel alloys are also used
For use. We offer a wide variety
An industry that has begun to value service, manufacturing depth, delivery reliability and short lead times
And consulting expertise -- including:
Optimization of Pfeiffer Metal Engineering (PME)
The use of materials.
Main Services:
Sheet metal
Mold injection molding
CNC machining
CNC milling
tap
3D printing
4.Baier Drehteile

Business type: CNC machining
Headquarters: Germany
Major Markets: Western Europe
Years of experience: 50
Company Profile:
As a family business with a history of nearly 50 years, Baierdrehteile is always focused on the future development. What challenges must tomorrow's precision turning parts overcome?
Which industries are most important? How to improve the production of turning parts in the future? Where others see problems, we see only solutions: Baierdrehteile.
All good things come in triples! This is how we see it as a manufacturer of precision turning parts, and why we have developed three principles to guide the daily production of real Baierdrehteile parts. Only a company that takes quality management seriously can effectively meet customer requirements and ensure perfect turning parts. We provide quality; Certification and sustainability. You can rely on it.
Main Services:
Online 3D printing service
Molten Deposition Modeling (FDM)
Stereo lithography (SLA)
Numerical control machining service
Surface treatment service
Mass production service
Sheet metal processing services
Selective Laser Sintering (SLS)
Multi-jet Fusion (MJF)
5.MPINGER GMBH

Business type: Small batch CNC processing
Headquarters: Germany
Main Market: Germany
Years of experience: 9
Company Profile:
We are a German-Indian company group, founded in 2013 with CNC processing as its main business, besides 3D printing, rapid prototyping, injection molding, sheet metal and so on. Our headquarters is in Hanover, and our branch is in Coimbatore, India.
Main Services:
Rapid prototyping
Rapid tooling
Metal stamping
The nc machining
Injection molding
Die casting
Sheet metal manufacturing
Small batch production
3D Printing (SLA/SLS/ Metal Printing)
Finishing services
Conclusion:
Now that you know who the top small-batch CNC machining companies in Germany are, all you have to do is visit their offices and test their services. They will do everything possible to make sure you get the best service possible. We hope you find the right company while looking for the right company.