Since its inception in 1850s, the automobile industry continues to develop by embracing new technologies and innovations. The most important technological advancements in the automotive industry are directly linked to advances in manufacturing. CNC machining used in automotive applications is the basis for numerous manufacturing advancements within the field.
For instance, in 1913, Henry Ford revolutionized automaking with the first ever moving assembly line. This brought mass-produced automobiles to the masses of the globe. Since then, precise automobile parts have been two of the primary ambitions of the auto industry.
In recent times there has been significant advances in the field of design, robotics and manufacturing techniques. All of these have resulted in significant improvements in the automated machining of automobiles. The same technology has also brought about improvements in car design and performance. There are a variety of uses for CNC cutting. This technology can play many significant roles in the process of transformation of automated manufacturing.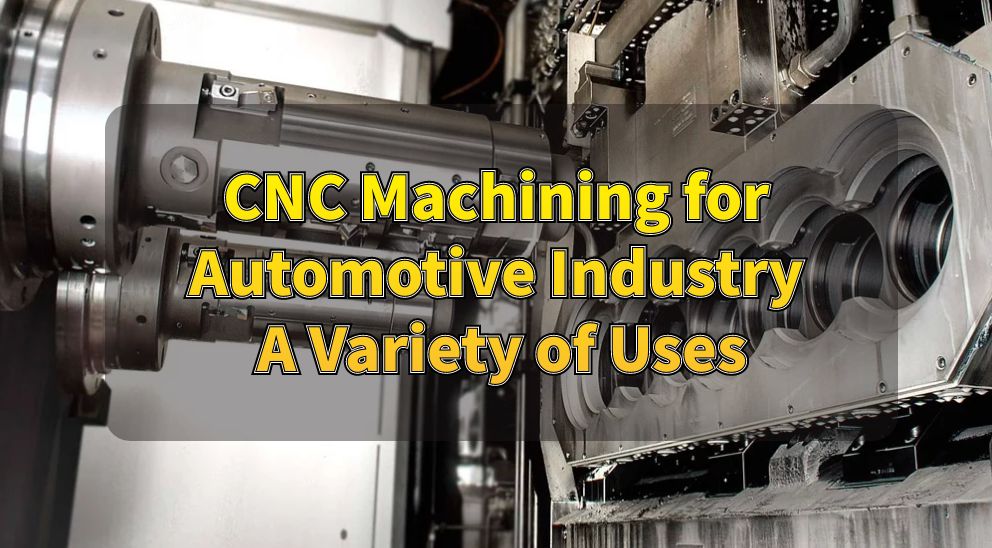 Benefits from CNC Manufacturing for Automotive Uses
CNC Machining in auto manufacturing has grown in popularity in recent time. Companies across the world seek to reap the benefits of this process's many benefits. The benefits include precision, speed, automation, repeatability and much more. Here are a few benefits of automobile CNC machine:
The speed of creation
From medium to large production quantities, CNC Machining offers rapid production times as compared to traditional machine. This is due to its automatic nature that eliminates the need for labor-intensive and lengthy manual machine machining. Certain actions can help accelerate and maximize the run time of machines during the process of planning production.
Automation
Automation is an benefit for CNC Machining. It not only allows more efficient production time in comparison to manual processes they also make manufacturing process easier. If you send a component to be made using the CNC Machine robot arm, it can assist in getting rid of the piece when it's completed. This means that workers have more time to designing and innovating tasks.
Repeatability
Since it is a computer-controlled procedure that is controlled by computers, automobile CNC Machining can also bring with it the guarantee of reproducibility. This is an essential aspect in any industrial manufacturing setting. In the automobile industry, it is vital to ensure that components are uniform between batches. So that each of the CNC vehicles that are produced are of the same standards.
Precision
As a result of its the ability to repeat, CNC Machining is capable of creating precise tolerances for components that require it. Particularly for automotive applications this method of manufacturing can achieve the necessary tolerances for the engine as well as other parts that are functional. So you are assured that you will receive high-quality automotive parts at the end of the production process. This process can also produce complicated parts for automobiles.
Customization
While it isn't suited well to customizing such as it is an additive production process, CNC Machining helps the automotive industry to create custom components. This benefit comes with short lead times, either in single-offs or in smaller production quantities.
Prototyping applications of CNC Machining for the Automotive Industry
CNC Machining helps in the automotive industry to help with prototypes and production purposes. In the second case this process provides the benefits of creating top-quality functional prototypes. The prototypes are evaluated and confirmed prior to moving into production.
Due to the many varieties of materials that are compatible in CNC Machining, the process can be used on a variety of automotive components. It's ideal for parts made of plastic or metal that are used under the hood. Additionally, you can use CNC machined parts for automotive to show the design elements of car interiors.
Rapid prototyping of lighting elements is simple by using CNC Machining, as are clear acrylic and other materials. For the development of new automobile designs, CNC Machining can also quickly create functional prototypes of high-quality to test performance.
Production Software that make use of CNC Machining for Automotive Industry
Apart from the many examples Automotive machining is also a major factor in the manufacturing of various components for CNC automobiles. These include:
Interior Panels
Interior components of vehicles, such as the dashboard can be produced using CNC Machining.
This procedure has the precision needed to make the dashboard frame out of blocks of plastic material. This ensures that cut-outs of the gas gauge, speedometer and indicator lights are perfectly aligned when the dashboard is installed.
Starter Motors
Car makers continue to find ways to use CNC Machined metallic. The most intricate parts, such as starter motors for instance are made with CNC Machining. The accuracy and sophistication of the process permit the optimization of these components. Manufacturers can also enhance them in terms of performance as well as durability and reliability.
Cylinder Heads
In the motorsport and automotive industry, CNC Machining for automotive industry has many advantages. These benefits are provided by the creation of engines blocks as well as cylinder heads that cover the cylinder of the internal combustion engine.
The technology is particularly beneficial for small runs or custom engine models. The components are made from an aluminum block in solid form that is a simple metal to work. Other components for the powertrain like housings for alternators and brake system valves as well as fuel pumps systems are also made with CNC Machining.
Drive Axles
In the car the drive axle is comprised of two axles which are joined to the wheel via an asynchronous velocity joint. The crucial part allows the wheel to to freely move vertically and also pivot while the car is moving. CNC machining is used to create precision auto parts that are part of the mechanism of drive axles like the hypoid gears as well as the bevel gears.
China CNC Auto Parts manufacturer can process about 80% of the parts in an automobile, whether metal or other materials.
Gearboxes
It is considered to be the 2nd component of a vehicle's system. It is comprised of a variety of gear and shaft components. The components can be made using CNC Machining, which offers excellent precision and efficiency. Parts of the gearbox that are finished that are made are feasible by using CNC grinding and drilling equipment.
Customized parts
OEMs can also utilize CNC Machining to make production of custom components as well as uncommon parts for replacement.
When it comes to the restoration of old automobiles, computer-controlled processes like CNC Machining help. They can be used in conjunction with reverse engineering techniques to make one-off components that could otherwise be outdated.
CNC Vs. 3D Printing in Automotive Uses
There are a variety of digital manufacturing technologies used in the automotive industry and it isn't necessarily clear which one is the most appropriate choice for a specific project. The development of high-quality production additive manufacturing is a viable alternative to CNC machineries that comes with distinct advantages.
The products of CNC machines are different from the products from 3D printers. It's due to the fact that CNC is an subtractive procedure. It removes material from an object that is solid. However, 3D printing is an additive process. This means that it creates new materials layer by layer.
It is, however, possible to create certain parts using either one of these processes. Interior panels are in this group. CNC-machined panels are durable and be made from a variety of materials 3D printed panels offer an innovative alternative. This is especially true when it comes to rapid prototyping.
Other 3D printed automobile parts include brake components. Ford has utilized Carbon 3D printing tech to create a parking brake bracket out of epoxy resin. Volkswagen also showed its application in the making of specific gear shifts.
Which manufacturing technique is best for you? Of course the automotive machining process is an extremely popular use that makes use of CNC machines. CNC machining for the automotive industry produces durable and reliable automobile parts. However, 3D printing provides a rapid alternative that allows you to produce ultra-light and personalized components.
JTC Machining CNC Machining Services
At JTC Machining we offer a range of CNC Machining options, such as the three-, four, and five-axis Machining on five axes. We also offer a wide variety of materials, including aluminum alloys titanium, steel and plastics. Utilizing our CNC Machining skills and extensive manufacturing network we are able to deliver automotive parts within three days to our customers.
Our in-house manufacturing facility and network of factories equipment enable us to complete every kind of part order that range from prototypes with a single run to large-scale production. Since the auto sector is one of the most risky industries we understand the importance of quality control and precision in the production of car parts.
For the most important parts that you have in your inventory we are able to accommodate extremely fine tolerances up to +/-0.01 millimeters. This gives you the capability to create intricate interlocking systems that have a perfect fitting.
We also assure quality by using numerous quality control techniques. The technical assessments are conducted prior to production to determine possible design flaws. material verification is provided upon demand. This allows you to verify the material's heat number and dimensions, grade as well as other specifications.
We equip the CNC equipment with inspection probes on-machine and monitor the process for quality control as well as first-article inspection (on the request). A complete report on dimensional inspection is also available upon request. All of these are offered at an affordable cost.